These days it's increasingly difficult to get a loan with traditional banks and financial services. Who can blame them? A bank will have to comply with a myriad of governmental and trade rules that make it impossible to get your application processed within the same day. More often than not, you get delayed responses, which often end with a rejection letter.
Not only can it be discouraging to try again, but the situation you're facing could also mean that it might be too late for you.
In addition, we don't prioritize your credit scores — your presence, and willingness to pay for your immediate need for cash is the most important factor to us. Once your application is approved, which is often within 30 minutes, you can get your cash in no time. This helps you pay for whichever you immediately need to and resolve it at a later date.
You can get the following services from A1 Credit
Whether it is for a medical emergency, a home renovation project or even a vacation to far off exotic locales, we've got you covered. You can get a loan with us for up to 6 times your monthly salary. Our quick approval and guaranteed disbursement within an hour will get anyone out a tight spot immediately.
Living in one of the most expensive cities in the world isn't easy when you are here without financial support. We are able to assist all foreigners with a work permit, S Pass or Employment Pass in Singapore. This will be useful for making your new home and life in Singapore comfortable.
A1 Credit has your back when it comes to your business ideas. No idea is too big or too small for us. From paying off your creditors to replenishing new inventory to expanding the business multiple folds, we want you to succeed!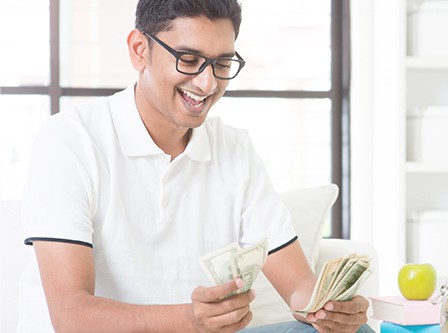 Are you worried that you won't have enough to last till the next pay day? Not to worry, as we're able to provide you with the funds you need to tide you over till it comes. With one of the lowest interest rates in the country, you won't have to worry about exorbitant prices.
Apply For A Loan With
The Most Trustworthy Money Lender In Singapore Now!
We have flexible loan packages specially tailored to your needs
A1 Credit is one of the finest and most dependable legal moneylenders in Singapore. With a greatly experienced team, we provide a wide variety of solutions for every borrower that needs cash conveniently with the lightest and easiest repayments possible.
We make it a point to help people greatly in need of cash but are limited by their credit scores. With us, we do away with long approval times and bad credit history. We only impose rules and regulations the Moneylenders Act and Rules allow us to, and we make sure that all customers — even those with bad financial history — receive immediate financing to resolve their financial needs quickly and conveniently.
We practice full transparency and honesty with all our customers, making sure to answer your most important question for us to your satisfaction. We have stringently followed the rules set by the Ministry of Law while providing fair and friendly relationships to customers with our financial services to ensure that their great time of need is made easier.
Just use our online application facilities to get the services you need in no time. With us, you'll always receive excellent service and be in good hands!
Fast Cash Loans On The Spot
When a financial emergency strikes, time is of the essence and every moment counts. You find yourself needing quick cash to fix the problem, and no one to turn to. Traditional financial institutions are slow to offer loans to help out, and you might not want to turn to friends and family for their aid.
As one of the most trustworthy and highly recommended licensed money lender Singapore, A1 Credit has made our application process as simple as possible - all you have to do is apply and sign the loan agreement for us to disburse the cash within an hour.
Low Interest Rates & Flexible Payment Plans
It doesn't matter if you previously have bad credit. Here at A1 Credit, our mission is to help all our clients weather through their financial difficulties. Our financial plans are tailored specifically to give you the breathing space to focus on what really matters in your life and business.
100% Secure & Confidential
Every application made with us is private and so is yours. At the same time, the personal loan application will not affect your credit score. As an independent provider, we do not release our clients' information to any third party.

Your Money Woes Sorted Within The Day
2. First Approval
If you are seeking a loan over the phone, we will ask you some preliminary questions to determine your eligibility. If you are eligible, we will invite you down to our office to get to know you better before we process the application for you.
3. In-Person Consultation
At our office, you can ask any questions or clarify your doubts with us. You will also be required to present your documents for our verification. Upon examining your case, our friendly loan officer will offer you an amount and explain the terms and conditions of the loan for your understanding.
4. Signing The Agreement
Once you agree to the loan amount and repayment terms, our loan officer will print out the contract for you to sign. This will only take 10 minutes.
5. Recieve Your Cash Loan
Once the contract is signed, you will receive the cash on the spot, hassle-free.
Age: 18 Years and above
---

Singaporeans: Min Monthly Income of $1500
Foreigners:  Min Monthly Income of $2000
---

Will my bad credit history affect the loan application?
We will look at your current credit situation and repayment ability rather than your credit history. However, we do not offer loans to un-discharged bankrupts.
Apply For A Loan With
The Most Trustworthy Money Lender In Singapore Now!
We have flexible loan packages specially tailored to your needs
A1 Credit has always made our customers our priority, and we are very grateful that our efforts are recognized. These are just some of the comments we've received over the years on Google Review.
Very good and reliable service. They offer a good repayment plan to the customers. Very satisfied and Highly recommended
The staff is very helpful and the loan was approved fast. They will explain the loan to you patiently and carefully. Would recommend it if you want to take a loan fast. Service is good too!
It's such a professional credit company with a very good attitude customer service 🙂 I strongly prefer to refer this concern
Very kind staff and friendly. In just a short time they processed my loan in a very efficient and professional manner. Highly recommended to everyone.
Get preliminary approval in 30 minutes by applying here