Financial emergencies can happen anytime. During these times,
you can count on us by availing of our flexible Payday Loan
cover up your expenses
Anyone can fall into financial difficulties at any time. You hope that you'll be able to survive till payday, loans coming due then might mean that you'll need a cash advance to make it through the month. It's times like these when you need that cash advance from your employer or if you're unable to get it from them, a payday loan.
Singapore banks, however, will scrutinize all loan applications that come to them. And when you have a bad credit score, getting a loan in Singapore isn't an easy task. Your loan application might not be approved, and the only way you can get out of your financial trouble is to opt for a short term payday loan in Singapore's money lender to help you out.
With A1 credit, you can count on us by availing our flexible payday loan services to cover your all financial needs.​
Helpful in the following situations:
Urgent bills

Household/vehicle repair

Vacation cash shortfall
Up to one month worth of income
EMPLOYEES MIGHT HAVE SOME EXPENSES THAT EMPLOYERS CAN'T HELP WITH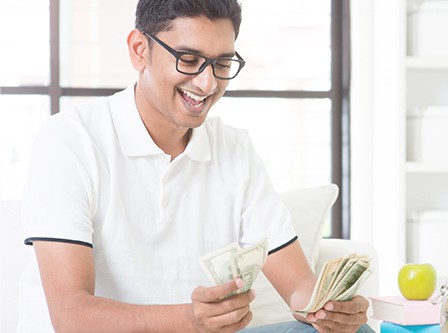 Singaporeans experience some of the best things in life. Living in a first-world country does have amazing benefits, with close access to beautiful parks, efficient transportation and a government that promotes stability and prosperity across the nation.
It is also one of the most expensive cities in the world to live in. Doubly so that some of us find it difficult to get through the month without some help in the event of an emergency like a medical emergency, or an illness or something unfortunate.
While Singaporean employers do comply and put their employees' concerns at the forefront of their operations, insurance and medical benefit cards can only do so much when it comes to situations where employees need the cash advance immediately — and in large amounts.
A1 Credit complies with all the rules and regulations set by the Ministry of Law. In turn, when you work with us, you can be sure you'll always be in safe hands. We respect all our borrower's rights and inform them of anything and everything they need to know about our procedures, contracts, agreements, and other information and additional costs they might face.
When you work with us, we will make sure you get the financing you deserve, won't drive you deep into debt, and provide you all the opportunities of making a payday loan application and transaction smooth and convenient for you.
At least 18 years old
Minimum salary of SGD1,500 for Local & PR; SGD2,000 for foreigners
The cost of living in Singapore can be quite high, even with the great quality of life available in the country. However, with piling expenses, delayed payments, and problematic financial management in your own home, you can fall into huge debt quickly.
Payday loans are designed to help you prevent huge problems if you face more than one at the same time.
For example, if you have sufficiently budgeted for all your vehicle or home repair expenses, we can help you with a payday loan if the amount can lighten your financial burden, especially if you're facing multiple issues that can drain your savings quickly.
Standard payday loan amounts are worth one month of your income. 
They're meant to help you cover your utility payments, repairs or serve as replacement funds that won't dent your budget. It is also especially helpful if you need your salary immediately and the cutoff for your next pay is still too far.
It serves only as a cash advance when you need to deal with some unexpected expenses in the household but your employer is unable to give you an advance payment.
A1 Credit allows local and PRs with over S$1,500 of monthly income to opt for a payday loan. Foreigners can only opt for a payday loan if they earn more than S$2,000 per month. In addition, both types of borrowers in Singapore must provide several documents that show proof of their residence, employment, bank statement, recent 3 months payslip and identity.
In turn, in just a few minutes or hours, you can receive your payday loan application results and get your money instantly. You will only need to repay your loan on your next payday.
REQUIREMENTS FOR FOREIGNER
(MINIMUM INCOME > $2,000)
Passport

Work Permit / S-Pass / Employment Pass

Proof of residence (utility bill or tenancy agreement)

Proof of employment (certificate of employment or 3 months recent payslip)

Proof of income (bank or account statement)

Singpass (to log into the IRAS website)
Requirements for Local & Permanent Residents (PR)
(minimum Income > $1,500)
Identity card / NRIC

Proof of residence (utility bill, a letter addressed to you, and/or tenancy agreement)

Proof of employment (certificate of employment or 3 months recent payslip)

SingPass (to log into CPF, HDB, IRAS website)
Apply For A Loan With The Most Reliable Money Lender In Singapore Now!
We have flexible loan packages catered to your every need
Apply online or call 6336-0833 to set an appointment at your convenience.
Discuss

the plan suitable for your budget with our friendly representative.

Read and sign the contract

including fees and terms of payment.

Get the cash instantly!
A1 Credit has always made our customers our priority, and we are very grateful that our efforts are recognized. These are just some of the comments we've received over the years on Google Review.
Very good and reliable service. They offer a good repayment plan to the customers. Very satisfied and Highly recommended
The staff is very helpful and the loan was approved fast. They will explain the loan to you patiently and carefully. Would recommend it if you want to take a loan fast. Service is good too!
It's such a professional credit company with a very good attitude customer service 🙂 I strongly prefer to refer this concern
Very kind staff and friendly. In just a short time they processed my loan in a very efficient and professional manner. Highly recommended to everyone.
Get preliminary approval in 30 minutes by applying here