Traveling through Singapore's public transport can be a hassle, especially when you are bringing young kids with you. Because of that, ride sharing platforms like Grab and Uber quickly rose to prominence. However, those two became unviable for the masses. Uber ceased its operations in Singapore, and Grab's rates experienced tremendous increases in pricing. In this article, we will discuss about the best carpooling alternatives to Grab and Uber. Without further ado, let's start!
Ryde Singapore
Ryde initially started as just a simple carpool Singapore application. However, the company has since launched RydeX, a private vehicle hiring service provider not too long ago. As opposed to Grab, RydeX provides booked service that is dependent on reservations made ahead of time. Users can book their rides for as early as 10 minutes before the ride, or up to a week in advance. The average waiting times on booking is around 20 minutes.
Information on the pricing model continues to be unclear. However, Terence Zou , the chief executive of Ryde has guaranteed that the smaller commission rate that they charge their drivers (which is only 10 percent compared to the 20 percent commission that Grab and Uber takes) will mean reduced prices for commuters. It is also revealed that fixed rate trips will comprise of surcharges as well as ERP charges, and its dynamic rates will vary depending on the supply and demand.
One of the features of the app is the ability to effortlessly display what is the cost of your ride on their platform, as well as other ride sharing platforms like Grab, allowing you to compare without opening and toggling among applications just to see who have the lowest rates. Ryde is available for download on both the App Store and Google Play.
Jugnoo

Jugnoo is another competitor to the private vehicle hire sector in Singapore. Jugnoo, an Indian company, emphasized on the freedom of control on ride prices that they provide to their users. They feature a reverse bidding process for booking rides with their users. Basically, it goes like this: whenever a customer creates a booking, Jugnoo drivers will give their bid for the ride. The drivers can either choose to go with the suggested price set by Jugnoo or go 10 percent lower or higher than the base price. The driver can also enter their own amount if they prefer.
Meanwhile, customers can make their choice of the driver that they want. With Jugnoo, you can choose a driver based on their rating, wait time, and the ride price that they bid. Jugnoo is already in full operation in Singapore, so you can give it a try for yourself. Jugnoo is a great ride sharing app that will let you choose your drivers carefully, read their ratings and review before booking with them, and choose the one that best suits your budget. You can download their mobile app now in Apple's App Store or Google Play Store.
Grab Hitch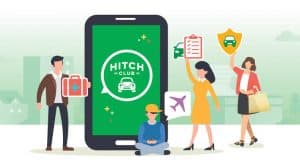 Grab Hitch hails not as a commercial ride sharing app, but rather a social ridesharing platform. This means that Grab does not earn from the rides made from Grab Hitch, and the payments are only for the expenses of the driver related to the trip. Grab does the calculation so that drivers cannot charge for profit. Grab is also bargaining to make it possible for cross-border transportation for people who are traveling the borders of Malaysia and Singapore. Grab Hitch is currently in the testing phase, and will soon be available to the public.
Get your FREE Loan Quotes today!
Fill out this form and our friendly officers will get back with your best offer
The advantages of using carpooling applications
In this section, we will discuss the different upsides to carpooling:
Less pollution due to less traffic on the road
With carpooling, people can appropriately decrease the total amount of commute trips every day since every passenger, along with the driver, equals one less car on the road. There are a lot of cars traveling the road that only have a driver with no passengers, so imagine the air pollution and traffic that will be prevented if every driver-only cars started to carpool.
Faster transportation
When carpooling, your car will be able to travel on the high occupancy vehicle lane. Depending on road conditions, this will equate to faster travels since there are fewer vehicles on the high occupancy lane. When you are driving your own car with no passenger, you cannot travel on the high occupancy vehicle lane. Be sure to ask your carpool driver to travel on these lanes if they are not already doing it.
Less expenses compared to using your own vehicle
When you are using a carpooling application, you can spend less funds on gas, insurance coverage, and vehicle maintenance. The only expense that you will have to incur is the carpooling fee that you will have to pay to the application that you are using. This expense can even be reduced by looking at all of the prices of the carpooling applications mentioned in this article and choosing the service that is offering the cheapest price.
Division of payment between riders
Because the driver will get compensated for the ride by the application that you are using, you should not bother about spending money for the gasoline. Additionally, the riders do not have to pay for the entirety of the bill since they will be sharing the ride along with other passengers. One more benefit of carpooling is that there is no overcharge or surchange, in comparison to taxis that will charge you for every moment that you spend in the vehicle, and charging you more if you got stuck in a traffic jam.
Are you looking for more money while in Singapore? Apply now for an A1 Credit loan! Taking out a personal loan or payday loan has never been easy with A1 Credit. They offer online applications that take only 30 minutes, low-interest rates, and more. Apply Now!